iPORT NTx-Ten Embedded Video Interface
High-performance video connectivity using 10 GigE technology
Pleora's iPORT™ NTx-Ten Embedded Video Interface hardware provides a straightforward way to integrate 10 Gigabit Ethernet (GigE) video connectivity into cameras and imaging products.
The NTx-Ten converts video data to Ethernet packets and sends it with low, consistent latency over a 10 GigE link to receiving software or hardware. The NTx-Ten is compatible with fiber-based links via an SFP+ (small form-factor pluggable) connector, and connects easily to off-the-shelf 10 GigE components such as network cards and switches.
A sophisticated on-board programmable logic controller (PLC) and support for the IEEE 1588 Precision Time Protocol allows users to precisely measure, synchronize, and control the operation of other system elements. GigE Vision and GenICam are both agnostic to Ethernet link speed, which means the NTx-Ten can be combined into systems alongside GigE Vision cameras operating at 1 Gb/s, with no software modifications.
The iPORT NTx-Ten is supported by Pleora's feature-rich eBUS™ SDK application tool kit. With this software suite, designers can rapidly prototype and deploy production-ready software to support video transmission over GigE, 10 GigE, and USB 3.0 using the same application programming interface (API).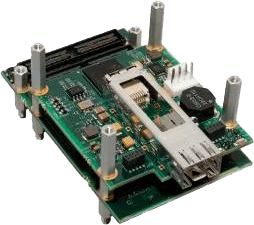 Supports transmission of video from up to two sensors simultaneously
Up to 96-bit, 125 MHz parallel LVTTL/LVCMOS video input, and up to eight interleaved taps
Line scan and area scan modes
120 MB frame buffer to accommodate multi-megapixel image sensors
GenICam Integration Package (consisting of the iPORT AutoGen XML generation tool and a firmware reference design) makes it fast and easy to create a user-friendly GenICam interface (contact sales for pricing information on this integration package)
Add metadata, such as results of image pre-processing or the exact position of a quadrature
Updateable firmware via the 10 GigE port for ease of manufacturing and feature upgrades in the field
Buy Now
905-0007
iPORT NTx-Ten Development Kit
Includes iPORT NTx-Ten OEM Board Set (905-0005) with heat sink, power supply, 10 GigE NIC, two SFP+ fiber-optic modules, fiber optic cable, and eBUS SDK USB stick.
Buy Now
905-0005
iPORT NTx-Ten OEM Board
Does not include heatsink. Must be operated with a heatsink.
Contact Us