iPORT Analog-Pro External Frame Grabbers
Preserve investments in existing cameras and optics, while converting to fully digital video connectivity
Pleora's iPORT™ Analog-Pro External Frame Grabbers allow designers to treat analog cameras as native GigE Vision® cameras. With these external frame grabbers, analog cameras enjoy the long-distance reach of Gigabit Ethernet (GigE) for both video and remote control, and can be mixed with native GigE Vision cameras in networked environments.
Compact and simple to integrate, Analog-Pro external frame grabbers can transmit two channels of composite (NTSC, PAL, CCIR, or RS-170) video simultaneously at up to 30 frames per second (fps) each with low, predictable latency over a GigE link. GigE supports cabling distances of up to 100 meters using standard CAT5e/6 cabling. With off-the-shelf Ethernet switches, distances can be unlimited.
The connection at the computing platform is a standard GigE port, allowing designers to reduce system size, cost, and power consumption by using smaller form factor computing platforms, such as laptops, embedded PCs, and single-board computers.
The Analog-Pro is supported by Pleora's feature-rich eBUS™ SDK application tool kit. With this software suite, designers can rapidly prototype and deploy production-ready software to support video transmission over GigE, 10 GigE, and USB 3.0 using the same application programming interface (API).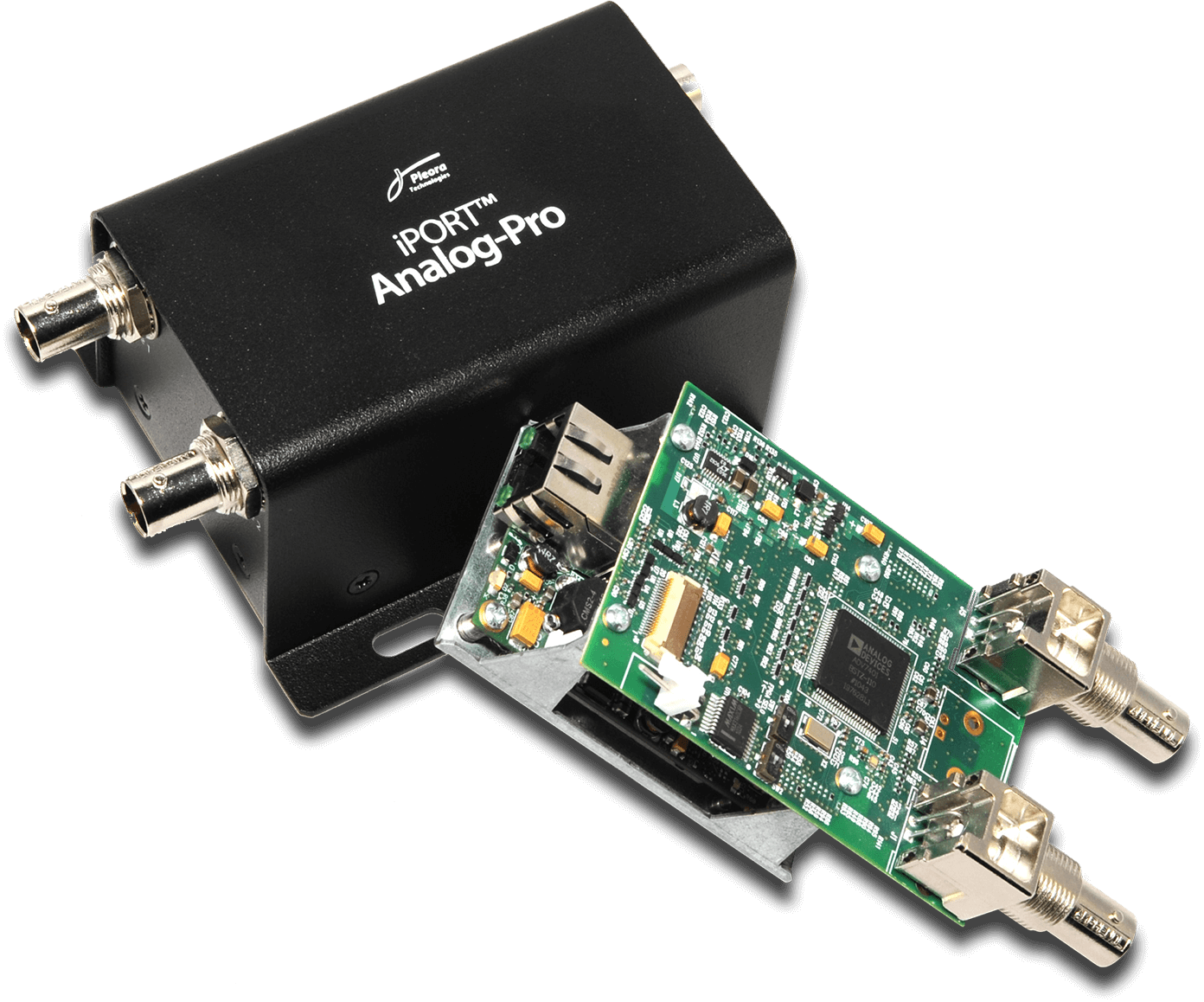 Transmits two independent channels of analog composite video over GigE with low, consistent latency
Compatible with
Built-in de-interlacing algorithms
Supports square pixels
RS-232 and GPIO to control external devices
Available as enclosed units and OEM board sets
GigE Vision and GenICam compliant, enabling interoperability in multi-vendor environments
Buy Now
900-6207
iPORT Analog-Pro SD OEM Kit
Includes carrier bracket, a cable and an unsoldered connector for GPIO, and serial, as well as connector for power.
Contact Us
900-6208
iPORT Analog-Pro SD Development Kit
Includes iPORT Analog-Pro SD Enclosed External Frame Grabber (900-6209), power supply, Gigabit Ethernet desktop NIC, Ethernet cable, and eBUS SDK USB stick.
Buy Now
900-6209
iPORT Analog-Pro SD Enclosed
Analog-Pro in mountable enclosure, with exposed BNC, power, and GPIO connectors. External power supply required (909-1200), see accessories.
Buy Now
909-1200
Power supply with 6-pin connector
For use with enclosed iPORT Analog-Pro and iPORT CL-Ten products
Buy Now