Manufacturing, Machine Vision and Smart Video Switching Solutions powered by NVIDIA
Pleora's expertise in real-time sensor networking and open video standards, together with the NVIDIA® Jetson™ platform, provides developers, system integrators, and designers with end-to-end solutions to simplify deployments for manufacturing, machine vision, and defense applications.
Manufacturing Solutions
Machine learning AI and digitization applications for manufacturers
Pleora's Vaira™ helps manufacturers digitize, automate, and upgrade error-prone manual processes and decisions to boost productivity and increase profits. The camera-based solution is powered by a scalable suite of shop floor-ready apps built on proven machine vision and AI expertise for frontline manufacturing operations, with two-way integration to resource planning tools to help drive continuous analysis, insight, and improvements. The solution leverages the powerful NVIDIA GPU in the Jetson platform for machine learning based applications.
Machine Vision Automation
Streamline application design and device connectivity
eBUS Studio™ reduces complexity, cost, and time for manufacturers, integrators, and imaging device suppliers designing and deploying AI and machine vision applications for automated quality inspection. The intuitive "low code" software development platform, built on Pleora's industry-leading eBUS SDK™, delivers unique connectivity capabilities to connect and configure imaging devices, and deploy custom, open source and third-party machine vision and AI inspection applications on a range of devices, including NVIDIA Jetson Edge devices.
For over two decades eBUS SDK has been the industry-leading choice to streamline end-to-end data delivery in thousands of mission-critical machine vision applications. eBUS SDK is a feature-rich platform that simplifies application development along with receive and transmit capabilities to streamline end-to-end data delivery between sensor devices and host applications. With JetPack 5.1 support, eBUS applications can be deployed on the NVIDIA Jetson™ AGX and Jetson Orin NX platforms.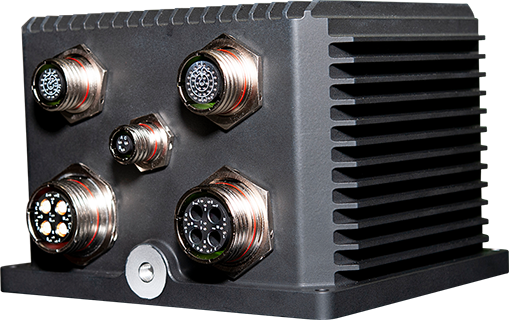 RuggedCONNECT Smart Video Switcher
Scalable, flexible approach to real-time sensor networking
The RuggedCONNECT Smart Video Switcher is a highly integrated standalone device that acquires, processes, and displays real-time video sensor data for military vehicle-based C4ISR local situational awareness (LSA) and driver vision enhancer (DVE) applications.
Combining the high-performance networking capabilities of RuggedCONNECT with the powerful GPU resources of the NVIDIA® Jetson™ TX2i, designers can easily add AI image processing and graphics overlay decision-support capabilities to reduce cognitive burden and increase mission effectiveness.
The GPU built-in to the Jetson platform provides the performance required to deploy driver and crew vision enhancement technologies and next-generation AI for the defense sector.