iPORT CL-U3 External Frame Grabbers
Simple to integrate USB3 Vision video interface for Camera Link Cameras
Pleora's iPORT™ CL-U3 External Frame Grabbers help designers leverage the performance attributes of USB 3.0 – including high-bandwidth output, power over cable, and computing platform choice – by converting Camera Link® cameras into native USB3 Vision™ cameras.
With these external frame grabbers, video from Base and Medium mode Camera Link cameras is transmitted with low, predictable latency over a USB 3.0 link directly to existing ports on a broader selection of computing platforms, including laptops, embedded computers, and single-board computers. Integrated PLC and GPIO capabilities allow end-users to control, trigger and synchronize cameras and other vision system elements.
The iPORT CL-U3 External Frame Grabber family includes a range of solutions to meet specific system requirements, including products supporting extended operating temperature range, extensive GPIO functionality, and power over Camera Link (PoCL).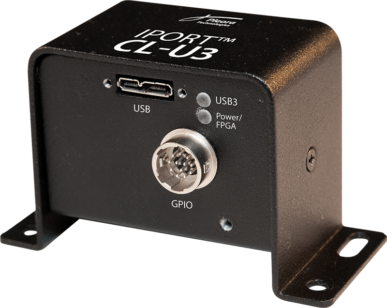 Transmits video from Camera Link Base or Medium mode cameras over USB 3.0, with low, predictable latency
Plugs into a wide range of computing platforms without needing a PCI/PCIe frame grabber
Compact and low power
Mountable enclosure
Line scan and area scan modes
120 MB frame buffer to accommodate multi-mega pixel sensor sizes
Throughput approaching 3 Gb/s
Record and playback functionality
USB3 Vision and GenICam compatible
Power, control, and video over the same USB 3.0 cable
Power over Camera Link (PoCL) with models CL-U3B-IND and CL-U3M-IND (external power supply required)
Sophisticated on-board programmable logic controller (PLC) allows users to precisely measure, synchronize, trigger, and control the operation of other vision system elements
GenICam Integration Package (consisting of the iPORT AutoGen XML generation tool and a firmware reference design) makes it fast and easy to create a user-friendly GenICam interface (contact sales for pricing information on this integration package)