iPORT NTx-NBT50 Embedded Video Interface
Transmit uncompressed images at 5 Gbps over standard Cat 5E cabling
Pleora's iPORT™ NTx-NBT50 Embedded Video Interface hardware shortens time-to-market, reduces risk, and lowers costs by providing a straightforward way to integrate high-bandwidth GigE Vision® 2.0 video connectivity over NBASE-T into imaging devices and systems.
The NTx-NBT50 Embedded Video Interface supports 5 Gbps transmission of uncompressed images over a standard Cat 5e Ethernet cable for distances up to 100 meters. The compact hardware solution is easily embedded into ­x-ray flat panel detectors (FPDs), imaging systems, and cameras. The product supports the IEEE 1588 Precision Time Protocol to synchronize image capture functions and other system elements, enabling the exact triggering of image acquisition. Integrated image management allows users to track and retrieve images that are transmitted during a particular acquisition session.
The iPORT NTx-NBT50 is supported by Pleora's feature-rich eBUS™ SDK application tool kit. With this software suite, designers can rapidly prototype and deploy production-ready software to support video transmission over GigE, 10 GigE, and USB 3.0 using the same application programming interface (API).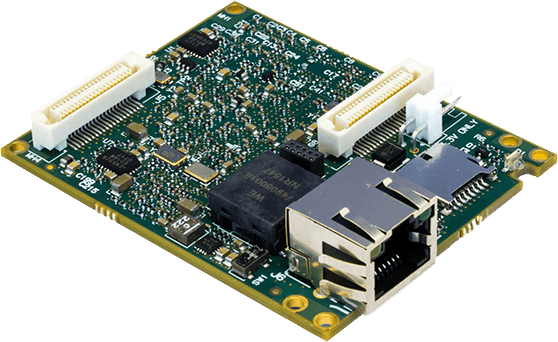 Supports 1/2.5/5 Gbps transmission rates for uncompressed images over standard Cat 5e Ethernet cabling for distances up to 100 meters
Sensor interface uses serialized LVDS for low power and low pin count transfer of internal 48 bit pixel bus
GigE Vision 2.0 compliance ensures interoperability in multi-vendor digital video systems
GenICam compliant interface provides easy access to programming features and simplifies integration of imaging devices into existing or new systems
Supports IEEE 1588 Precision Time Protocol (PTP) to synchronize image capture and imaging system elements
Programmable logic controller (PLC) lets users control external machines and reacts to inputs make functional changes, adjust timing, or add features without requiring new hardware
Image management tags an image or group of images with metadata – provides context necessary to retrieve image data from the on-board frame buffer in event of power or network failure at the receiver
512 MB Image buffer
Image store capability up to 4096 images deep
Supports line scan and area scan modes
Field upgradable firmware
GenICam Integration Package (consisting of the iPORT AutoGen XML generation tool and a firmware reference design) makes it fast and easy to create a user-friendly GenICam interface (contact sales for pricing information on this integration package)
Buy Now
900-8006
iPORT NTx-NBT50 Development Kit
Includes NTx-NBT50 OEM board mounted to a thermal baseplate, NBASE-T Ethernet desktop NIC, Ethernet cable, power supply, and eBUS SDK USB stick.
Buy Now
900-8003
iPORT NTx-NBT50 OEM Board
Compact, transmitter that enables rapid and low-risk creation of GigE Vision 2.0 compliant cameras and other imaging devices. It enables the transmission of uncompressed high-bandwidth GigE Vision compliant images at speeds of 5 Gb/s over low-cost Cat 5e cabling
Contact Us