RuggedCONNECT Smart Video Switcher
All-in-one rugged Smart Video Switcher for video capture, processing, streaming, and display
The RuggedCONNECT™ Smart Video Switcher is a highly integrated standalone device that acquires, processes, and displays real-time video sensor data for vehicle-based local situational awareness (LSA) and driver vision enhancer (DVE) applications.
The RuggedCONNECT Smart Video Switcher includes eight analog composite inputs supporting RS-170/NTSC/PAL or 2 HD-SDI video inputs and two independent HD-SDI single link displays. Support for GigE Vision and Def Stan 00-082 streaming protocols on dual 1 Gbps Ethernet channels make it the perfect solution to implement networked, open standard, interoperable video management systems as demanded by GVA, NGVA, and VICTORY standards.
Scalable, distributed video
Multi-sensor networking makes data accessible to processors and displays for manned and unmanned systems. The RuggedCONNECT leverages Pleora's distributed video architecture to allow multiple units to be networked together to create larger scale video switching systems with different video input/output combinations. Powerful Processing Combining the high-performance networking capabilities of RuggedCONNECT with the power of an NVIDIA GPU, designers can easily add AI image processing and graphics overlay decision-support capabilities to reduce cognitive burden and increase mission effectiveness. The compute power of the NVIDIA GPU supports applications such as AI/ Machine Learning, image fusion, 360 degree stitching, map/ terrain overlay, and image enhancement to more demanding convolutional-neural network based threat detection and classification.
Customization options
The highly configurable RuggedCONNECT architecture enables fast development of products to address various sensor and display interfaces, such as HD-SDI, VGA, or custom sensor/display requirements. This same architecture enables Pleora to add more interfaces, support a different mix of interfaces, additional network interfaces, and general communications ports.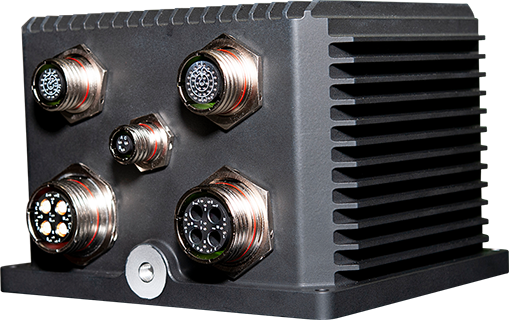 8 video inputs (RS-170/NTSC/PAL) or 2 HD-SDI video inputs
2 fully independent HD-SDI displays
CANbus, USB2.0
Dual Ethernet capability enables system level redundancy and more effective communications capabilities
Bypass channels for select inputs provides additional redundancy during degraded operating situations
Scalable technology platform to support multiple sensor and display configurations, including basic sensor, display, or network-only processing units
Plug-in AI solutions for machine learning-based tank detection and driver assistance
Eases design of standards-compliant vetronics video management platforms

GigE Vision and Def Stan 00-082 compliant
GVA, NGVA and VICTORY ready
MIL-STD-1275E Power supply
MIL-STD-810G and MIL-STD-461F conformance for shock, vibration and EMI
For Additional Information