Streamline Design and Deployment of AI and Machine Vision Applications
Pleora's eBUS Studio provides manufacturers, integrators, and imaging device suppliers with a low-code platform to connect and configure imaging devices, deploy custom, open source and third-party machine vision and AI inspection applications on a flexible range of processing options, and seamlessly integrate with critical manufacturing systems and processes.
In an inline application, eBUS Studio allows a system integrator to create customized and scalable AI and machine vision applications that can be reused across multiple projects. Built on the company's eBUS SDK, Studio can be used to control, configure and acquire images from any vision standard-compliant imaging device. The platform provides a browser-based, low code visual interface to develop and train machine vision, AI, and hybrid machine vision/AI applications along with quick start templates for common inspection requirements. With Python support, developers can import custom Python code, open source code, and pretrained models from other machine vision software and solution providers.
eBUS Studio provides a unique approach to AI classification and object detection that uses raw or processed machine vision data to help speed algorithm training and development while reducing the time and cost to sourcing numerous good and bad product images.
Applications developed in eBUS Studio can be deployed on a range of computing and processing devices, edge platforms and industrial PCs. Processing flexibility lets an integrator "develop once" and deploy applications across multiple end-user sites, regardless of their processing choice. Programmable Logic Controller protocol support MES/ERP communication, and Industry 4.0 connectivity with OPC-UA, MQTT low-code blocks ensure compatibility with factory floor components and systems.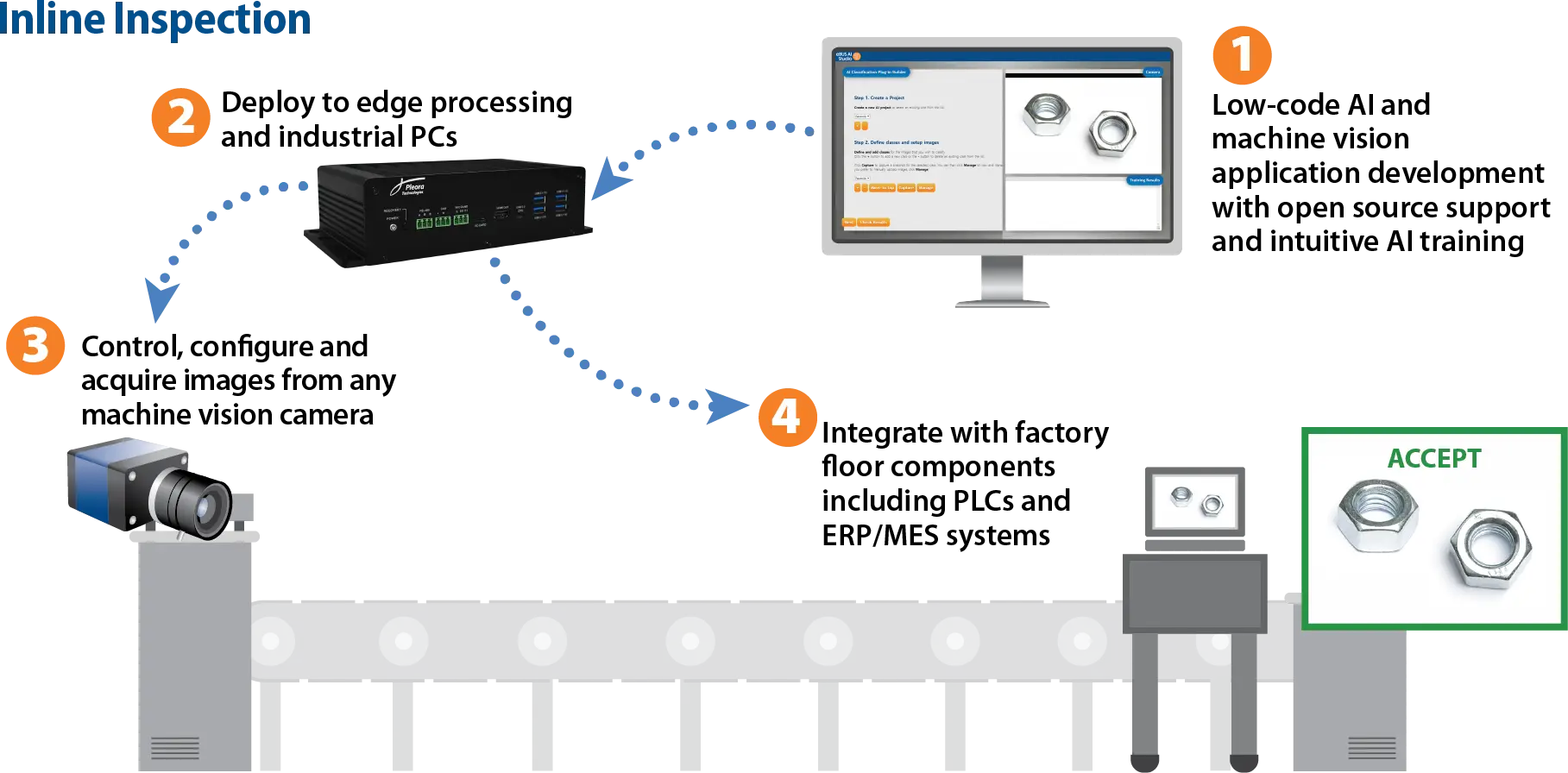 Unique Advantages
Drag-and-drop browser-based platform to build, train, and deploy applications integrating proven machine vision coding and flexible machine learning AI High reliability real-time data transmission for images and metadata
Easily import, customize, and deploy open source and third-party vision and machine learning code
Avoid multiple tools, vendor lock-in, and expensive development fees, along with unique Python integration and quick start templates to develop scripts that can be reused across multiple projects
Seamless integration with manufacturing systems, machine vision components, and processing, with IIoT support for future scalability