NBASE-T Brings New Bandwidth to Imaging System Design
As published in RTC Journal

---
When faced with a challenge, we often seek advice from those who have successfully overcome similar hurdles to find out what they discovered or changed. Technology is no different, with designers often looking to adjacent markets for solutions to help solve a shared problem.
In the vision market, advances from the telecommunications and networking market are driving continuing innovation that makes imaging technology more accessible and easier to use across a widening range of applications.
One of the most significant "game changers" for the vision industry was the adoption of Ethernet. The vision industry's GigE Vision standard, first ratified in 2006, borrowed from established networking standards to regulate the real-time transfer of low latency video over an Ethernet interface. Previously, designers were limited by legacy interface standards, adapted ill-fitted consumer or broadcast technologies, or were burdened by the costs of developing their own proprietary solution.
Migrating to an Ethernet-based interface solution, designers solved key challenges related to cable length, multicasting, and component costs; paving the way for wide-scale adoption of real-time video analysis in industrial automation and inspection applications. As these imaging systems have become more complex, and real-time video analysis is increasingly adopted for sophisticated medical, security, and transportation applications, designers face a significant new challenge related to bandwidth.
These fully networked, high-resolution multi-image source vision applications outputting millions of pixels of data for real-time processing are quickly outpacing the capabilities of 1 Gbps infrastructure. The vision market is again looking to the telecom and networking industries to help solve this capacity crunch, with new NBASE-T™ technology solving the bandwidth challenge without requiring a rip-and-replace network overhaul.
Introducing NBASE-T
The NBASE-T specification defines a new type of Ethernet signaling that boosts the speed of twisted-pair cabling well beyond its designed limit of 1 Gbps to support 2.5 and 5 Gbps speeds at distances up to 100 meters. The specification supports autonegotiation between the new NBASE-T rates, and slower 1 Gbps rates, or – if the network infrastructure supports it – 10 Gbps.
The specification is governed by the NBASE-T Alliance™, a consortium of over 40 companies representing all major facets of networking infrastructure including the vision market. Alliance members are focused on encouraging the widespread use and deployment of 2.5G and 5G Ethernet through promotion of the IEEE 802.3bz standard, and testing and compliance programs to facilitate the development and deployment of interoperable products.
NBASE-T technology was initially developed to help existing campus networks meet new bandwidth demands created by data-hungry mobile devices, Internet of Things (IoT) applications, high-definition video streaming and teleconferencing, and quality of service demands for multiple users. With new 802.11ac wireless access points aggregating up to 5 Gbps of throughput, designers struggled to find a cost-effective solution to connect access points and local networks.
By boosting the bandwidth capability of the large installed base of Cat5e and Cat6 cabling, NBASE-T solutions enable users to accelerate their networks in the most cost-effective, least disruptive manner. Beyond solving capacity challenges for wireless local area networks, the technology is also being used to connect client and desktop PCs to Ethernet switches, network attached storage devices to wired network infrastructure, and gateways for cable and telco triple-play voice, video, and data services.
NBASE-T and Vision Systems
NBASE-T technology offers a natural evolution for high-performance imaging thanks to its bandwidth support, low-cost cabling, and compatibility with the GigE Vision standard.
With GigE Vision over NBASE-T and IEEE 802.3, designers can transmit uncompressed images at throughputs up to 5 Gbps over low-cost Cat 5e copper cabling. The extended-reach, flexible, and field-terminated cabling can be easily routed through systems to ease installation and maintenance.
One of the benefits of the GigE Vision standard is that it is agnostic to the physical layer. This has enabled manufacturers to create 10 GigE and 802.11 wireless interface solutions that communicate using the GigE Vision standard. Similarly, designers can create NBASE-T imaging devices and vision systems that are natively compatible with GigE Vision compliant software. An NBASE-T network interface card (NIC) and Gigabit Ethernet NIC are treated the same by Windows, Linux, and other operating systems. This means existing GigE Vision-compliant software and software development kits (SDKs) are compatible with NBASE-T without any modifications.
System-level, PHY, and component products compatible with the NBASE-T specification are already shipping, with more products in development scheduled for release including GigE Vision over NBASE-T embedded video interface solutions for X-ray panels and imaging devices.
New Bandwidth for Industrial Imaging Application
NBASE-T technology promises to help imaging system manufacturers and designers meet increasing bandwidth requirements, while taking advantage of existing cabling in retrofit upgrades and less expensive, field-terminated cabling in new installations.
For example, designers can upgrade quality inspection system to increase throughputs while employing GigE Vision over NBASE-T solutions to transmit higher bandwidth video over installed copper cabling. Video can be multicast from multiple imaging sources to reduce computing and component costs in distributed and pipeline processing systems.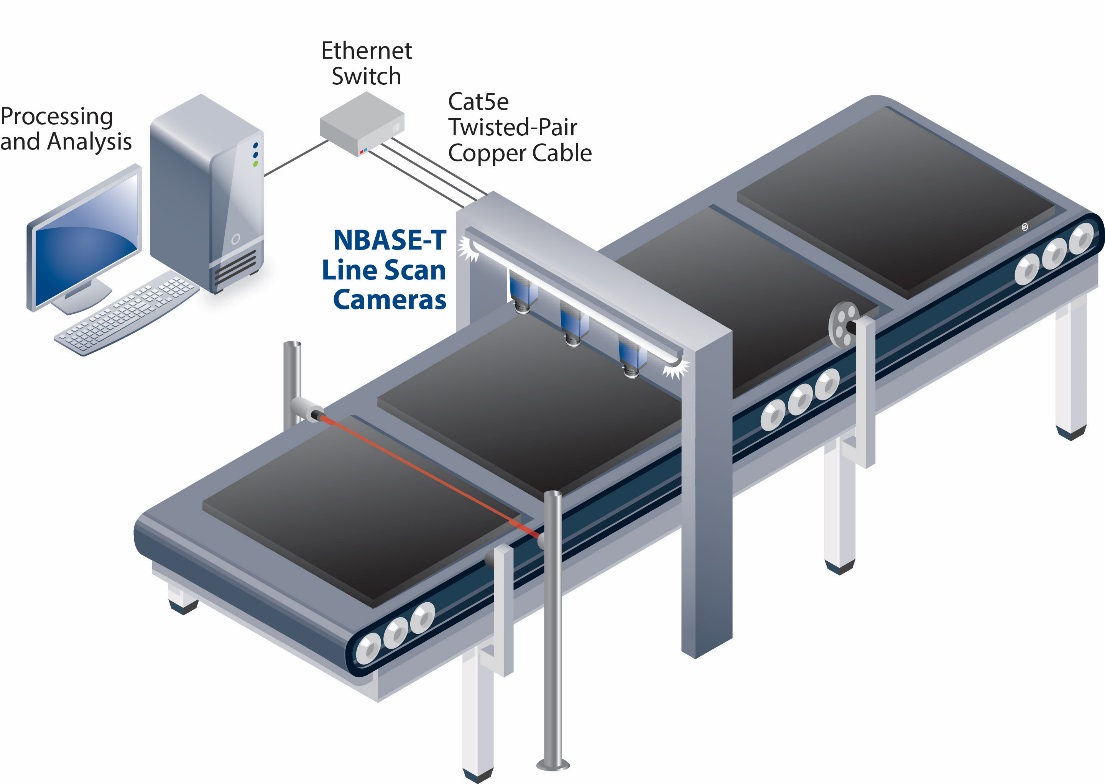 GigE Vision over NBASE-T and Medical Imaging
While real-time video is driving beneficial changes in how healthcare is delivered, medical imaging systems represent a significant investment for hospitals both in terms of initial capital costs and ongoing maintenance. As medical imaging applications multiply – from image-guided surgery to diagnostic systems – GigE Vision over NBASE-T allows equipment manufacturers to more economically and efficiently meet higher bandwidth video requirements over existing or low-cost infrastructure.
Digital radiography, which uses digital X-ray sensors instead of traditional film, was one of the first markets to embrace imaging technologies developed for industrial vision system networking. Migrating to GigE Vision-enabled digital flat panel detectors (FPDs), system designers can more easily transfer images between Ethernet networked devices and processing units used to enhance, analyze, and display images. Numerous manufacturers have integrated GigE Vision interface hardware into FPDs that fit into existing systems as a direct digital drop-in replacement for film-based panels. GigE Vision over NBASE-T provides a starightforward upgrade path for these manufacturers, enabling the design of next-generation higher bandwidth FPDs for networked and multi-panel radiography applications.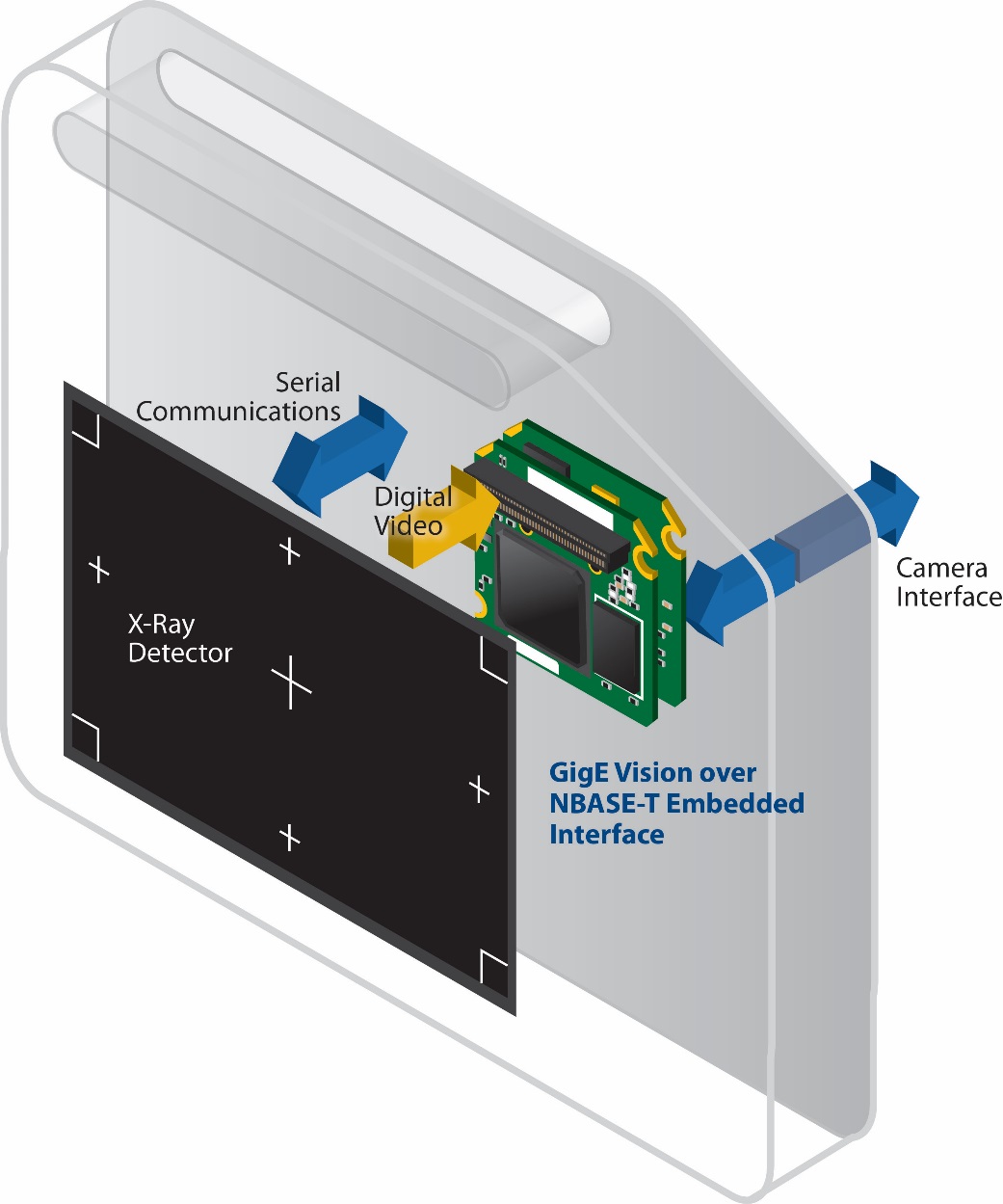 By boosting the bandwidth capabilities of low-cost, extended-reach Cat 5e cabling for a fully networked medical imaging application, processing and analysis equipment can be located outside the sterile operating room. This reduces the cost of sterilizing equipment, lowers the risk of patient infection, and allows data to be easily shared across multiple departments.
One of the key advantages of GigE-based distributed network architectures is the ability to integrate previously isolated image sources and patient data onto a common network and aggregate the information to a single dashboard.
In an operating room, for example, the single screen dashboard displays real-time patient data from different imaging devices and systems. The surgeon can easily switch between imaging sources, such as white light and fluoroscopic cameras and pre-operative and real-time images, without configuring hardware or software. The image feed from a lamp head camera can also be converted into the same GigE Vision-compliant image stream for easy networking with other imaging sources.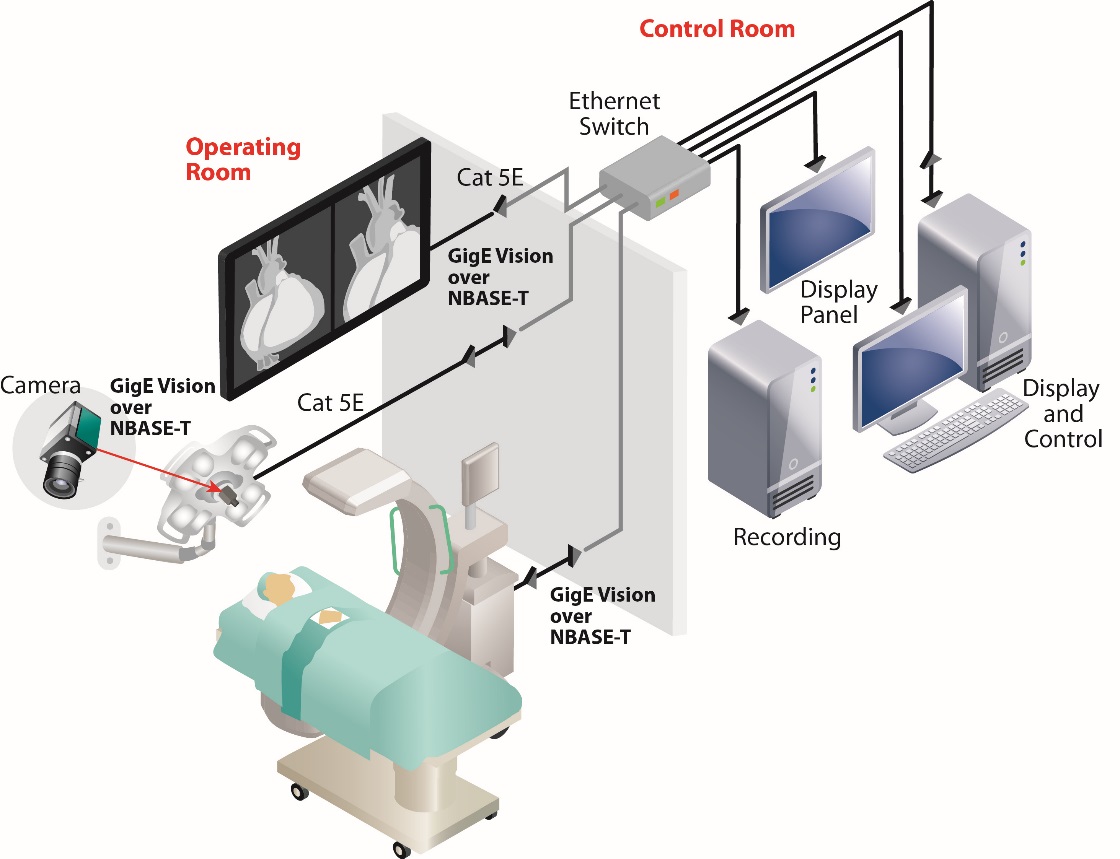 At the transport layer, the imaging device sends only one copy of the data to a network switch. The Ethernet switch replicates the data for distribution to displays and processing platforms. This ensures video distribution doesn't impact server performance. Leveraging Ethernet's multicast capabilities, display and processing functions can be distributed from a single device to multiple devices to help ensure reliability. Per-frame metadata, such as a precise timestamp of image acquisition and sensor settings, is transmitted with the images over the Ethernet link for easy integration with DICOM-compliant software and hardware.
Advances in high-bandwidth imaging transport are also helping reduce radiation doses for patients. This is especially beneficial in fluoroscopy, which provides real-time X-ray images of a patient's anatomy using radiation exposure over time. The process, however, resulted in a greater cumulative radiation exposure.  Innovative fluoroscopy systems minimize a patient's exposure by using multiple moving X-ray sources to irradiate tissue from numerous incremental angles in just seconds. Traditional interfaces would be uneconomical and too cumbersome for this application.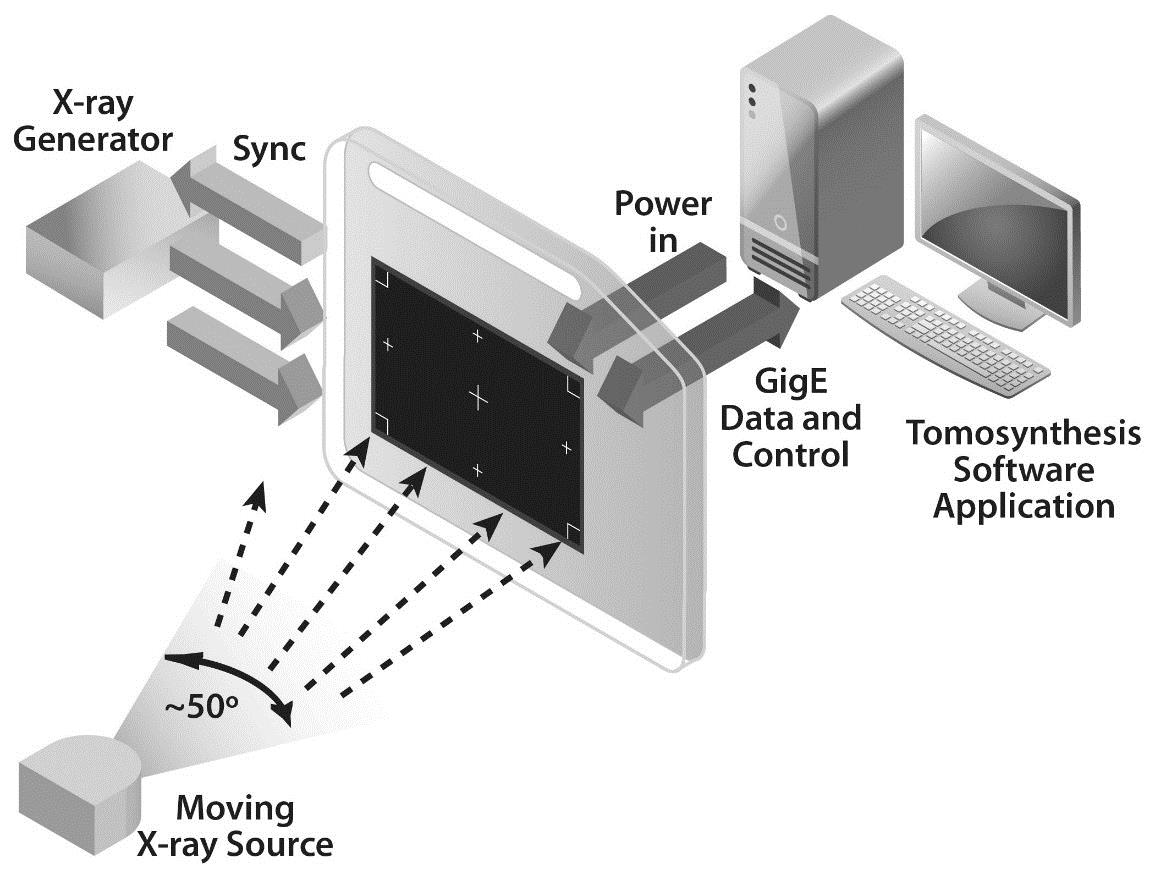 Continuing Evolution
NBASE-T technology joins a growing list of recent technology advances, including GigE, 10 GigE, USB 3.0, and wireless, that are now playing a key role machine vision. For imaging system manufacturers, these new capabilities are helping simplify design, lower costs, and enhance performance for traditional machine vision applications, while supporting the migration of vision expertise into new markets.
Ed Goffin is the marketing manager with Pleora Technologies, a leading provider of video interfaces for real-time medical, security & defense, and machine vision applications.