Innovation and AI goals for 2020
It's starting to look like spring. As the season changes and we leave winter behind, everyone is keen on transforming themselves, setting new goals, and looking at what they can do to improve their processes, products, and company. Innovation is on the minds of many. But what does it really mean to innovate?
Our team recently completed a study on innovation with other companies in the Kanata North Business Park. Polling a number of companies in Canada's largest tech park, the survey looked to uncover how companies define, measure, and execute on innovation strategies.
The Kanata North Business Association added $7.8 billion to Canada's GDP, with over 500 companies and 21,000 employees.

WHAT WE FOUND
Just over 40 percent of the surveyed companies reported that they have currently do not measure innovation at their company. The companies that do measure innovation usually measure the number of new ideas generated by employees, the Return On Investment (ROI) that each idea generates, and the number of new products that can be traced back to employee innovation. Many of the companies surveyed acknowledged their dissatisfaction with their methods of measuring innovation, and plan to revisit these methods in the future.
AI = INNOVATION?
Speaking to companies around innovation strategies, one of the top topics for 2020 is artificial intelligence (AI). AI has the promise to improve businesses and the lives of consumers, but the reality is that there's been a lot of hype about what AI can do, but not a lot of information on how to use it in practice.
According to a study from McKinsey & Company, there remain some significant barriers to adoption to AI.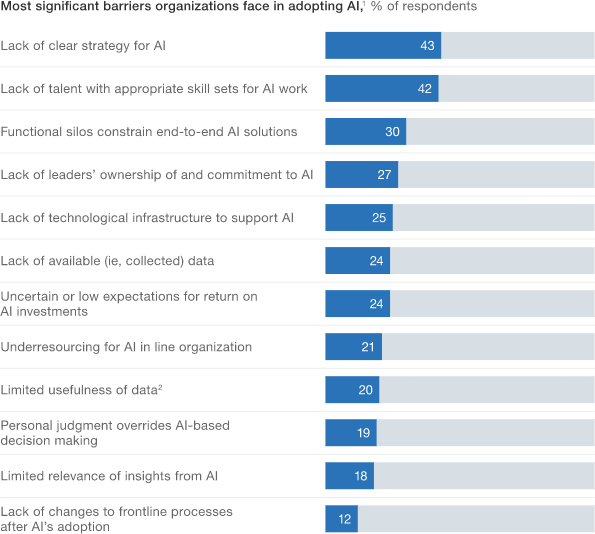 Isolating this into "machine vision" talk, some key requirements for AI success would be:
Deploying AI without changing infrastructure
Data acquisition and quality for training
Adapting AI to how employees current work
We can't emphasize enough the last point and how important it is from a user experience design (UXD) perspective. New technologies like AI won't be adopted easily if they don't match how employees work.
At Pleora Technologies, we're starting 2020 with the launch of our new AI Gateway. It's a platform designed to simplify AI deployments for machine vision applications, including visual quality inspection. The gateway is tool designed to help system integrators, designers and end-users reach their 2020 AI goals by providing a simple machine vision-focused deployment platform.
How are we addressing the 3 key requirements for machine vision?
Deploying AI without changing infrastructure
We're allowing users to re-use existing PCs and camera infrastructure by leveraging Pleora's expertise in GigE Vision to "transcode" camera feeds with AI and machine learning processing, based on open source frameworks like TensorFlow.
Data acquisition and quality for training
We provide our popular eBUS SDK and player application to easily save images from cameras for training purposes.
Adapting AI
By leveraging GigE Vision, we maintain compatibility with existing applications that users are familiar with, rather than switching over to an entirely new environment.
MACHINE VISION 4.0 MATURITY MODEL
Finally, we'd like to share with you our "Machine Vision 4.0" maturity model that you can use throughout 2020 as a guide on how you're progressing on your AI innovations during the year. Looking forward to hearing some exciting applications around our customers and our AI Gateway in 2020.